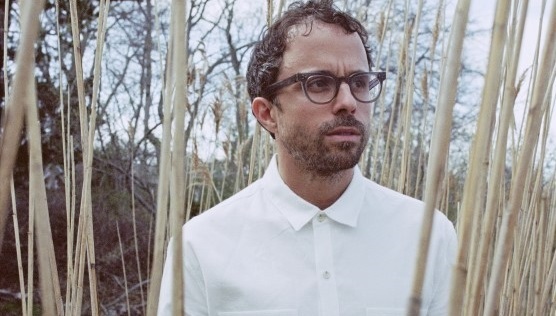 The 13 solo effort from Grammy Award-winning singer-songwriter Jesse Harris entitled No Wrong No Right is charted for a February 10 release on Dangerbird Records. Enter the obligatory Norah Jones reference that earned him said Grammy, but Jesse Harris is chock full of sad songs and jazzy folk-pop bravado, enough to have collaborated with some of the world's most talented artists. He's written genre-scaling songs that highlight the performances of artists like Willie Nelson, Emmylou Harris, Bright Eyes, and Cat Power.
This latest effort is mature and playful, a relaxed journey through the inner workings of Harris' prolific, custom style of song crafting. Flanked by the dynamic drums and guitar duo of experimental rockers Star Rover, Harris' creative vehicle was treated to parameters unknown. The duo are a sure fit for Harris' trademark instrumental musical journeys, this time graced with heavenly horns and arrangements by Paul Simon and Bon Iver compatriot CJ Camerieri – a fitting touch to the crafty, catchy record as a whole.
Harris pulled from the well of Neil Young for inspiration on No Wrong No Right. Inspired by the blueprint of Young's After the Gold Rush, Harris states, "Some of that record was done with Crazy Horse, and it's a rock record, but then you also have these hushed acoustic folk songs, and it keeps shifting back and forth between the two distinct moods. I always loved the way that worked, so I started there." The triple-threat of Harris' instrumentals, three piece rock band (with Star Rover backing him up), and the acoustic anchored duets with guitar god Julian Lage prove that the number three is a charm on Harris's lucky record number 13.
The album opens with the first of the instrumental gems, "Pandora's Box," then quickly bursts into the romantic Latin folk-jazz of "Nothing's Gone But the Night." It's an entrancing, harmonious journey with luscious, barely present female backing vocals and xylophones for days.
We're pleased and honored to premiere the third song from the new record, "It Would Have Been So Easy." This is a prime example of the catchy pop-loaded songs that seem to effortlessly flow from the mind of Jesse Harris and cohorts. No Wrong No Right is a tremendously fine album from start to finish, never a dull moment or a copied sound, a true-to-form artful blueprint, a carousel ride of poetic songwriting.  READ MORE…