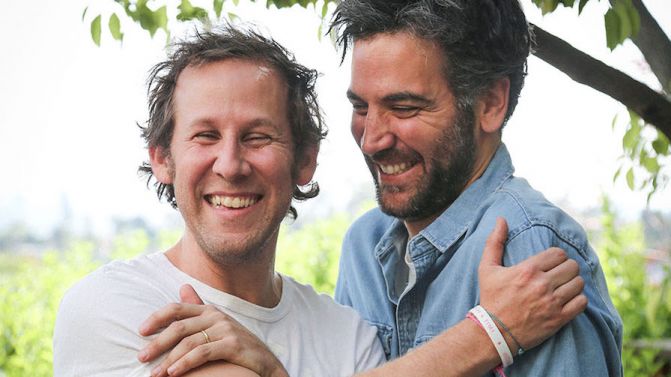 Radnor & Lee (musician Ben Lee and actor Josh Radnor) are out with their debut, self-titled album on November 10. To celebrate their partnership, the duo put together a playlist of uplifting tracks to get you through the gloomy months.
Ben Lee
Jonathan Richman, "My Love is a Flower"
For me, Jonathan Richman was the beginning of understanding that being happy and positive was sometimes the most punk rock choice you could make. I would say he might be my single biggest influence. His whole attitude was just glorious, childlike and positive. I love the vulnerability of seeing our ability to love as a flower just beginning to bloom.
Donovan, "Happiness Runs"
This song was written by my father-in-law and is almost like a meditation on the way that positive mindset changes the world, one thought at a time. 'Happiness runs in a circular motion…everybody is a part of everything, anyway.' These are important mantras to lift us up when we are down. It always makes me smile.
Daniel Johnston, "Speeding Motorcycle"
This song, and especially the version Daniel recorded with Yo La Tengo live on radio, affected me profoundly as a teenager, and it still does. The sense of freedom, possibility and the unknown is so palpable in this recording. Of course, being a Daniel Johnston song, there is a feeling of being slightly unhinged not too far from the surface. But above all, this song makes me feel like a puppy putting my head out the window of a car and enjoying the wind in my face, smiling ear to ear.