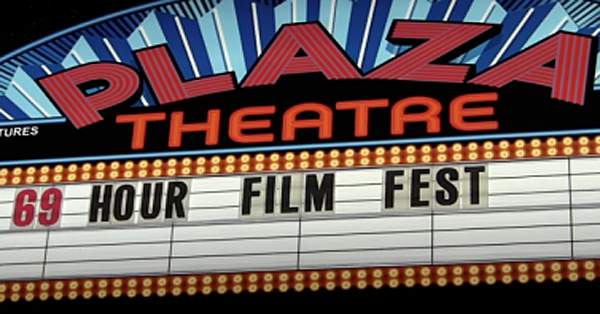 Bio
Filmmakers from all over Georgia and the Southeast will be given the opportunity to make comedy shorts and have them screened live at the Plaza Theater in Atlanta. Contestants will register for the event. On the Thursday start day at midnight, we email all registered teams the mystery prop & line of dialogue that must be included in each submission. Videos are due back by Sunday at 9pm (69 hours later) in digital form. Submissions shall not exceed 3 minutes in length. Videos are judged primarily on comedy, so don't freak out if your video quality isn't through the roof. Hell, shoot it on an iPhone, just make it hilarious. Pack these videos with as much funny as you can, and you may just win! Registration is $69 per team, and no limit to team members.
Judges for 2013:
Dave Willis started his career in 1996 as a producer on Space Ghost Coast to Coast. In 2000, he co-created Aqua Teen Hunger Force and provided the voice of Meatwad and the irascible next-door neighbor, Carl. Willis is also executive producer of Squidbillies and co-created and co-directed the live-action series, Your Pretty Face Is Going To Hell.
Jim Fortier is an executive producer and writer for Adult Swim's Squidbillies. He was also a writer & producer for The Brak Show, Brak Presents the Brak Show Starring Brak, Adult Swim Eyewitness Nightbeat, and Space Ghost Coast to Coast.
Casper Kelly is co-creator, writer, and director of Adult Swim's TV show Your Pretty Face is Going to Hell. He has also written for Squidbillies, Stroker & Hoop, Harvey Birdman: Attorney at Law, and Aqua Teen Hunger Force and is author of the book, "More Stories About Spaceships and Cancer".
Austin L. Ray has covered pop culture for the likes of Rolling Stone, The A.V. Club, Creative Loafing, and one terrible gas station periodical. He's interviewed countless comedians, including Louis CK, Patton Oswalt, David Cross, Marc Maron, and Kyle Kinane. One time at Bonnaroo, Zach Galifiankis screamed in his face.
Lucky Yates is from Detroit. He plays Dr. Krieger on Archer and was a bunch of different characters on Good Eats. He works at Dad's Garage Theatre Co.
Links
Website / Facebook / Twitter / Google+ / Stubble on Stubble