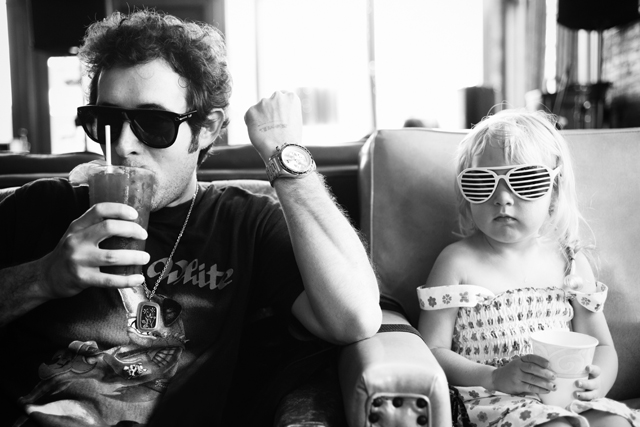 "The wheel ain't broken.  You don't need to fix it, just trying to put some new rims on it." – Saint Pé
At CMJ this year, the first band on my must-interview list was Saint Pé, the newest project formed by Black Lips alum and current Diamond Rugs guitarist/vocalist Ian Saint Pé. 
Backstory
As a not-born-but-bred Georgian, I've been a Black Lips fan since I switched Jack Rogers for Converse and mini skirts for skinny jeans back in the 9th grade.  And then came college and post-college life in Athens, Georgia, where I was introduced to part-local supergroup Diamond Rugs.  Dudes.  This band is my joint, and I have been helplessly addicted since the release of their latest album Cosmetics back in February.  Yes, that is nine full months that I have had D.Rugs in my constant rotation, and I'm nowhere near over it.
That being said, if Ian Saint Pé is involved with a band, I'm an instant convert.  So when word reached my ears that he was forming a new band under his name, I was all kinds of psyched.  And when I found out that the band was coming to CMJ, I snagged myself an interview with them so I could let my fan flag fly.
The Interview
We all sat down on the rooftop of Our Wicked Lady in Brooklyn before the band's last of three shows at the fest, and as soon as the mic was on, Ian dove in, intro'ing us with our new slogan: "Vinyl Mag CMJ 2015.  Pro gear, pro attitudes."  This turned out to be the first of countless ad-libbed one-liners throughout the interview, which he attributed to having a "lot of time in a van to think about things." READ MORE…