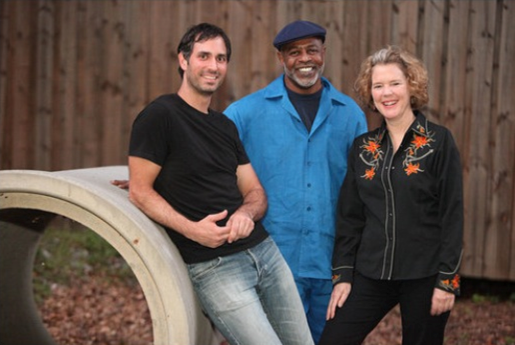 To set up an interview with Life Sentence, or get your hands on press passes, advance music, hi-res photos, album art or videos, contact stevelabate@babyrobotmedia.com.
Bio:
Clarence Harrison is an innocent man who spent nearly 18 years in prison before he was finally exonerated by DNA evidence. Since he's been free, Harrison has devoted his life to supporting the organization that helped clear his name, social-justice nonprofit the Georgia Innocence Project.
Harrison's latest endeavor—all proceeds of which benefit Georgia Innocence Project—is an autobiographical collaboration with musicians Melanie Hammet and Ben Holst. The trio's soulful, affecting new EP Life: 20/20, tells Harrison's tragic yet ultimately redeeming story through songs and spoken word, carrying a powerful emotional resonance.
In 1987, at 28 years old, Atlanta native Harrison was wrongly convicted of rape, kidnapping and armed robbery, and sentenced to life plus 20 years, plus a second 20 years. After serving nearly 18 years of that sentence, Clarence was finally exonerated and released in 2004 because of DNA evidence uncovered by the Georgia Innocence Project.
While in prison, the initially optimistic Harrison languished as hopes of clearing his name slipped away, along with nearly two decades of his life. He was estranged from his daughters, aged 7 and 9 at the time of his incarceration, and was unable to attend the funeral of his beloved mother, who never saw her son exonerated. Trapped in a living nightmare, Clarence became convinced he would die in prison.
In Harrison's darkest hour, though, hope appeared in the form of a gracious woman he'd never met before. Yvonne Zellars wrote Clarence regularly in prison, reviewed his case, believed in his innocence, and even took on a third job to hire an attorney in hopes of freeing him. After six years of dead ends, though, and with their options running out, Zellars suggested Harrison contact then-new organization the Georgia Innocence Project, a nonprofit whose mission is to free the wrongfully convicted using DNA evidence.
Harrison had been told that the slides from the victim's rape kit—along with all of the other physical evidence in his case—had been destroyed. Still, when the staff at the Georgia Innocence Project received Clarence's letter, they worked tirelessly on his behalf, eventually discovering a single remaining slide containing DNA evidence. The test results proved, irrefutably, that Clarence could not have committed the crime.
Having had so much of his life taken from him, one might expect Harrison to be bitter or angry, but he chooses not to be. Upon his release, he married Yvonne, the woman who had given him something to live for in the face of such great injustice. And now, instead of dwelling on the wounds of his past, Clarence uses them as fuel in his quest to help others, whether imparting hard-earned wisdom to at-risk kids in tough Atlanta neighborhoods or raising money and awareness for the organization that helped free him.
For his most recent effort, Harrison has teamed up with a pair of immensely talented friends he met through his continued involvement with the Georgia Innocence Project—Melanie Hammet and Ben Holst, the producer-songwriters behind Life: 20/20.
Hammet—a Georgia Innocence Project volunteer—has shared the stage with the Indigo Girls, Shawn Mullins and Sugarland's Kristian Bush, releasing more than a dozen albums in her career. The most recent, Edifice Complex, is a collection of songs about urban planning inspired by Pine Lake, Ga., where Hammet serves as Mayor ProTem.
Holst—a close friend and collaborator of Hammet's—is creative director at legendary Atlanta recording studio Southern Tracks and co-owner of award-winning music production company Tunewelders, where he produces music and radio spots for clients such as The Atlanta Braves and Full Throttle Energy Drinks. As a touring musician, he's shared bills with ZZ Top, Lady Antebellum and Aaron Neville.
The trio's Life: 20/20 EP was set in motion in early 2012 when Melanie and Ben met Clarence at the ramshackle Georgia Innocence Project office, crammed snugly beside a smoky underground bowling alley in Decatur, Ga. As Clarence sat with them recounting his tragic experiences, it stirred something in his future collaborators and they immediately set to work writing the empathetic songs that would end up on the new EP.
But Hammet, Holst & Harrison don't plan to stop with Life: 20/20. They have even bigger plans for their next release. Life Sentence: The Album (coming in 2014) will feature fully-produced versions of their songs about Clarence's life, performed by a diverse collection of renowned Georgia artists across a variety of genres, from hip-hop and R&B to rock, pop and country. Once again, their goal is to raise money and awareness for the Georgia Innocence Project so that the organization can continue its mission to exonerate the wrongly convicted.
Links: