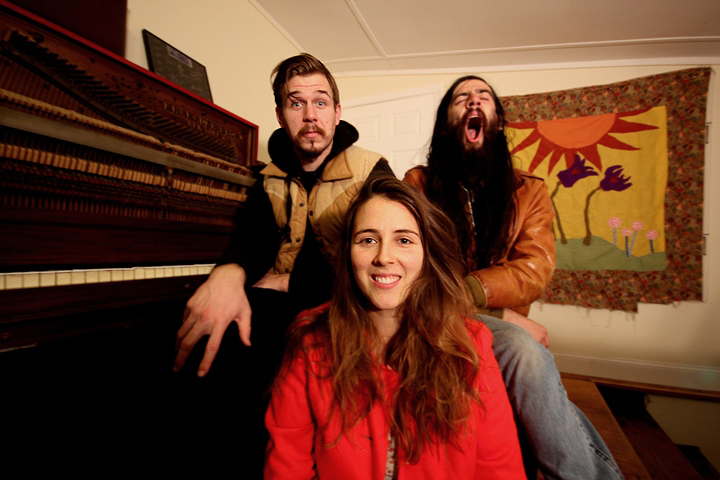 To set up an interview with Lily and the Tigers, or get your hands on press passes, advance music, hi-res photos, album art or videos, contact stevealbertson@babyrobotmedia.com
Bio
Down the well-traveled highways of America comes Lily and the Tigers, rambling from town to town, infecting hamlets and cities alike with their arresting indie folk. Each song spins an intricate web of love and friendship while betraying a dark, pastoral Southern Gothic undercurrent. Depending on the night, you might find the tight-knit group on a candle-lit front porch swapping songs 'til sunrise, or perhaps churning through a set at some jampacked outdoor festival, winning (broken) hearts & minds while warming up the crowd for artists like Bela Fleck, Shearwater or O'Death.
Recorded in rural Vermont, the band's new LP, The Hand You Deal Yourself (out March 4) embodies that quintessential rock & roll archetype of creativity through isolation. Like Bob Dylan & The Band's Basement Tapes or Bon Iver's For Emma, Forever Ago, Lily and the Tigers have created a down-home set of songs filled with ramshackle charm and anchored by a stripped-bare aesthetic.
Lily and the Tigers was born shortly after standup bassist Adam Mincey met Casey Hood amongst the clatter of drunkards, hipsters and hustlers at some divey and destiny-bound pool hall on the outskirts of Atlanta back in 2010. Their clandestine friendship quickly bore musical fruit. "Once I heard her sing," Mincey says, "I knew instantly that I had to be in a band with her."
Initially a duo, Hood and Mincey released their bedroom-recorded debut, Sojourner, the following year. The album featured a rotating cast of players lifted from other bands in the local scene, who fell in effortlessly, weaving improvised, layered arrangements around Mincey's thumping basslines and Hood's alternately soulful and haunting vocals.
In the wake of Sojourner, the band went on a brief hiatus while Hood packed her rucksack for a four-month journey through Asia. Inspired by this new world she'd discovered across the globe, she collected the sounds of ancient prayers, chants and monsoon rituals with her tiny field recorder. "I bought this cheap little Nepali guitar and that's how I communicated while I was there," Hood says. "I played this family the first Beatles song they ever heard. … Really, I had to leave home to find home. By the time I got back to the States, I was taking my music much more seriously."
Hiding 'Til Dawn, the band's sophomore album introduced the precise and inspired slide guitar work of Jared Pepper, Lily and the Tigers' third permanent member. Contrasted with the psych-tinged Americana of Sojourners, 'Til Dawn has an old, weird Appalachian feel, due in large part to the contributions of fiddle player Ryan Gregory, bass clarinetist Mikhail Ally and drummer Peter Webb. The album was cut almost entirely live in one all-night, whiskey-soaked marathon that left the six musicians staggered in a Waffle House at 8 a.m., trying to wrap their heads around exactly what had just transpired.
By the summer of 2013, the band had entered a new phase, paring down to a trio. The remaining core—Hood, Mincey and Pepper—crammed their instruments into Hood's tiny Toyota Yaris and road tripped up the East Coast from Georgia to Vermont where, for the next week, they worked on new album The Hand You Deal Yourself, recording every day and camping every night.
"There was nobody else around," Hood says of the solitary sessions. "We'd wake up every morning to the sound of the Mad River, then go into the studio during the day, and afterward there'd still be a couple hours of sunlight to walk to the general store or explore some waterfalls. Being outside inspired us. Playing music around a bonfire is what we love."
During the sessions for The Hand You Deal Yourself, producer/engineer Steve Askew (Seely, Prefuse 73, Minty Fresh Records) gave the band free reign to experiment. They used this license to loot the basement of his home studio for esoteric sounds. On "Honey," Pepper provides percussion by repeatedly dropping a length of chain onto a metal filing cabinet on the upbeat, and pounding a hearth scraper against the top of the cabinet on the downbeat, mangling it in the process. "Steve was like, 'I was going to use that!'" laughs Mincey. While the filing cabinet was sacrificed, the ghostly percussion lends the waltz an intriguingly dark ambience.
The song "Beaumont" is a love letter to Victoria House, an infamous DIY venue for wayward travelers and gypsy rockers. "It's like your grandparents' house, where all the artifacts are still there, except the kids have taken over," Hood says. "To us, that house is the essence of being on tour." The record's final track, "Last Mosquito," is a transcendent Southern ballad Hood wrote after wrestling with the death of her grandfather. Further cementing the themes of family, friendship and travel, "All Hearts and Hands" is a sensual, slide-anchored romp that channels the carnal intensity of love, while "Home" is equal parts a melodic thank you to Hood's sister and a show of deep affection for the close circle of Atlanta musicians who have offered up their talents to Lily and the Tigers in the past, and continue to inspire them.
The March release of The Hand You Deal Yourself now on the horizon, the band is hard at work booking an extensive U.S. spring tour. "This album is about the all the work we put in to get where we're going," Hood says. "You can be influenced by a lot of things but ultimately you deal your own hand. We don't carry our fear. We set it aside."
Links