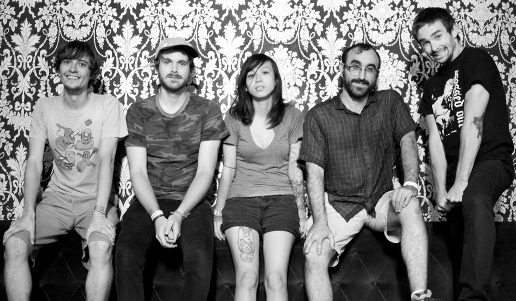 L-R: Dakota Floyd, Witt Wisebram, Dianna Settles, Steve D'agostino, Bryon Scherer
To set up an interview with The Wild, or get your hands on press passes, advance music, hi-res photos, album art or videos, contact stevealbertson@babyrobotmedia.com
"The celebratory storytelling and punk-folksy delivery of this four-piece makes you wonder how such clean guitars could get your body shaking so hard. The Wild are a lot of fun, and their approach, defiant in a Bob Dylan sort of way, should give kids everywhere the feeling that they can make a difference in the world, no matter how bad things get in the interim." – Pine Magazine
"The Wild have added a definite lightness to the world of folk-tinged punk. Not lightness as in inconsequentiality, but lightness as in the indefinable way their work has a tendency to illuminate and uplift." – punknews.org
"One of the most energetic and heartfelt albums to come out this year." – The Blue Indian
"Confident, grown-up and ready for a broader audience." – Jaded In Chicago
Bio:
Carrying on in the tradition of the great American troubadours, The Wild fuses the genuine spirit of the migrant political folk musician of the 1930s with the raw energy, drive and emotion of the early days of punk. Their music carries a wave of energy that makes one want to dance, smile, cry and dissent in equal parts.
The Wild came together as an extension of frontman Witt Wisebram's solo folk project in 2008. Now, after releasing four 7-inches, one Japanese split and two LPs, they're sharing bills with Against Me!, Manchester Orchestra, Mountain Goats, Titus Andronicus, Frank Turner, David Dondero and Brand New.
"Our ultimate goal is to tell stories that emphasize empowerment and not feeling alone. It's about having no pretension and creating fans who are more like friends," explains Wisebram. "Really, it's all about what Springsteen does."
The band's new LP,  Dreams Are Maps, is their best yet. Recorded by Laura Jane Grace (Against Me!) at her Florida studio, the band put down ten earnest tracks ranging from folk ballads to all out rockers. The vocal harmonies of Wisebram and his fiancé/bandmate Dianna Settles twist and mesh in a filigree of kinship and positive change. This album is a memorial to The Wild's friend and frequent tourmate, Anthony Poynter, who died of cancer this year. Poynter released The Wild's first self-titled EP.
Links:
Website / Facebook / Twitter / Youtube / Asian Man Records / Quote Unquote Records /