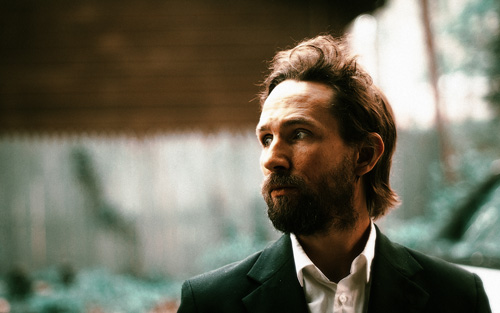 Bio
Moody, hushed, pensive, Centro-Matic and South San Gabriel frontman Will Johnson's new album Scorpion stings softly—the raw, off-the-cuff music an unexpected cradle for his expressive whisper. Listening to this record is an experience akin to the healing solitude of a pre-dawn stroll through a mostly silent forest, arriving at the top of a mountain peak just in time for the sun's first rays to break over the horizon. Understated polyrhythms emerge and vanish as mysteriously as they appear. At turns, the wistful music becomes momentarily discordant, anxiety building toward sigh, release, resignation—the redemption of letting go.
On Scorpion, Johnson registers the subtle vibrations of family, love, isolation, spirituality and wonder with the seismograph eyes of a keen, immeasurably sensitive artist perched inconspicuously on the periphery of a rich, tumultuous world that's at once sad, beautiful and vibrant—alive with the serene poetry of his lyrics, and the thick-swathed oil colors of his sonic paintbrush.
Scorpion is Johnson's first solo album in eight years, an arresting polaroid of five consecutive days spent recording on the wooded outskirts of Denton, Texas, at the studio of longtime bandmate, producer and engineer Matt Pence. It was a midwinter session, the vibe reflected in the rippling pool of the title song's lyrics: "War is woven in our touch, there's promise in our sleep / The warmth is strangled by the clutch of winter's long release."
Through 16 years of making music together in Centro-Matic and beyond, Johnson and Pence have developed the ability to complete each other's musical sentences. "Matt and I lock in so well," Johnson says. "His instincts and ideas really serve the songs, and his patience and positivity are unmatched."
Also lending their skills to Scorpion are multi-instrumentalists Scott Danbom (Centro-Matic, South San Gabriel, Sarah Jaffe), Howard Draper (Tre Orsi, Shearwater, Okkervil River) and Magnolia Electric Company's Mikey Kapinus.
Unlike Centro-Matic's Candidate Waltz or Johnson's last solo album Vultures Await (both of which were written well in advance and recorded using carefully conceived arrangements), Scorpion documents the genesis and germination of its songs. "A lot of them," Johnson says, "were written in the studio, right then and there, in the moment. I enjoy the capturing those initial gut reactions in songwriting. It doesn't always work, but when it does, there's so much emotion—you capture the song in such a raw, unique form." This bold, unrehearsed approach lends an urgency to the record. There's a beauty, an unvarnished truth, to its rough edges.
On "Bloodkin Push" and "It Goes Away so Fast," Johnson channels the spirit of Harvest-era Neil Young with his forlorn acoustic-guitar strumming and high, breathy harmonies. And the influence of Johnson's late friend—revered singer/songwriter Vic Chesnutt—can be felt in the warbling minor-key melodies and unconventional phrasing of "Blackest Sparrow," kin to Chesnutt tunes such as "Panic Pure" and "Sad Peter Pan."
Of all the subject matter Johnson grapples with on Scorpion, family relationships and the idea of home—as a place of both struggle and refuge—are at the core. Before there was a record industry, before there were fashionable trends in music and pop culture, folk musicians wrote about family and community.
"Breathe a loud release, and sing a newer hymn for newer days, my homeward son," Johnson murmurs on "Bloodkin Push." "No lament my homeward son, often you have come to sit beside me in silent ways / Every now and then a twitch, a scrape, just to err in silence of newer place."
As artists grow older and become parents, explains Johnson, who had his first child last year, they take finer notes on those things very close to home that are important to them. "You start to see the world in a different way," he says, "And for me, it's impossible for that not to seep into my writing. Even if it's doesn't dominate things, it's going to color them.
"The family is valuable and enriching subject terrain," he continues. "But a lot of artists are afraid to go down that road. Which is understandable. You don't necessarily want to lay everything out on the table. That said, it's pulling at you for a reason, and I think there's a cleansing that can come through facing it and writing about it."
While several record labels were interested in picking up Scorpion, Johnson ultimately decided to cut out the middle man (just as Centro-Matic did with Candidate Waltz) and self-release the album direct to fans. With this DIY approach, he says, "there's an accountability factor—if something goes wrong, or there's a snag, you can easily trace and correct it. I'm a hands-on individual. I think it's important for me to learn how to do this on my own. And it allows me to keep the team small, which I like. It's a more efficient way to operate."
When Johnson isn't touring or recording with his main projects Centro-Matic and South San Gabriel, making solo records or working on his visual art (his folk-style paintings have been displayed in galleries from Texas to New York), the prolific renaissance man keeps busy with a slew of notable side projects. He's the touring drummer for indie supergroup Monsters of Folk, featuring M. Ward, My Morning Jacket's Jim James and Bright Eyes' Conor Oberst. He's got a debut full-length on the way from Overseas, his new collaboration with former Pedro the Lion frontman David Bazan and brothers Matt and Bubba Kadane of The New Year. And this past February saw the release of New Multitudes, a long-in-the-works Woody Guthrie Archives project featuring Johnson, Jim James, Anders Parker and Son Volt's Jay Farrar.
In between all this action, Johnson is hitting the road this fall in support of Scorpion, playing a mix of traditional club shows, art-space gigs and intimate acoustic living-room sets, with a goal of breaking down the barrier between audience and performer. "I plan to keep it as paired down and artist-to-fan related as possible," he says. "Shows are always more memorable when they happen on strange neutral turf."
Johnson will be heading out first with his friend and New Multitudes collaborator Anders Parker (with whom he's toured living rooms in the past), and then, in November, he heads to Europe for a powerhouse tour featuring three distinct singer/songwriters—himself, The Hold Steady's Craig Finn and Drive-By Truckers frontman Patterson Hood. "The mutual fanship thing is pretty full throttle in that camp," Johnson says. "With our history together, I think we'll be able to make a pretty cool show out of it."
Links