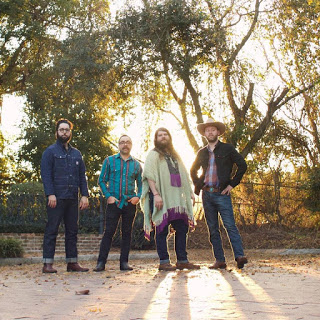 Sometimes the better a band gets the more direct their music becomes.  With increased confidence, there is less pressure to earn one's stripes by dancing around a musical point.  While Gran Pavo Real (Ropeadope, Mar 30) is only Great Peacock's second full-length, the collection reveals an evolution and a sure-footedness to the songs of Andrew Nelson and Blount Floyd.
2015's Making Ghosts was one of my favorite records for that year.  Songs like "Broken Hearted Fool" and the title track struck a perfect chord, working with an americana sound that was decidedly Southern and richly melodic.  Those qualities are most readily on display with new tracks like "Hideaway" and "One Way Ticket".  The former features both some great guitar and a bit of classic organ thrown in for great measure.  "Ticket" offers a quieter ride, built on a fine vocal and a memorable chorus:  I'm a rolling stone / Yeah, I can't sit still / I'm a one-way ticket, headed straight down hill / I'm a back row Baptist with stories to tell / Got a one-way ticket to keep me out of hell.  This is classic Southern americana, very well played and as praiseworthy as anything else that's been released this year.
Even while striking these familiar notes, Gran Pavo Real finds the Nashville quartet embracing more of the region's blues and gospel influence.  "Heartbreak Comin' Down" is a piano-driven blues number, with a blazing Blount Floyd guitar solo.  "Rattlesnake" adds a rocking swagger, punctuated by bursts of guitar and a soaring chorus.  Both "Take Me Down" and "Oh Deep Water" are darker, gospel tinged tracks.