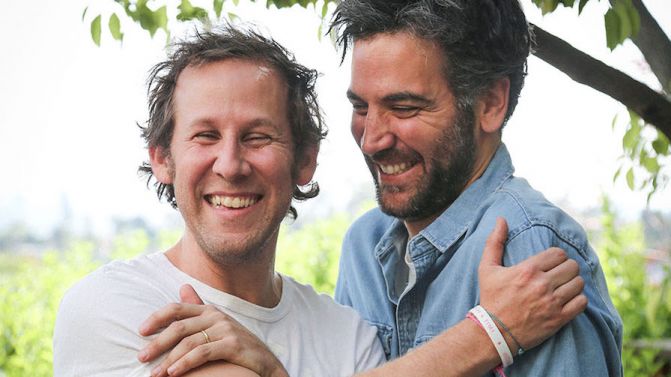 Ben Lee must play nice with others, because the Australian indie folk star has cultivated a number of fruitful collaborations across his 25-year career. Once upon a time, he teamed up with Ben Folds and Ben Kweller to form a supergroup called, appropriately, The Bens. Since then, he's filled his prolific solo output with guest spots from the likes of Zooey Deschanel, Mandy Moore, Sean Lennon, Neil Finn, and Azure Ray. Now he's found what many might deem to be a surprising new collaborator in actor Josh Radnor.
 Radnor, after all, is better known for his work on TV (How I Met Your Mother's Ted Mosby, the forthcoming Rise) and film (he's written and directed two Sundance favorites, Liberal Arts and HappyThankYouMorePlease) than his musical aspirations. Still, he and Lee have been friends for years, and it was their shared interest in spirituality and philosophy that prompted the pair to begin writing music together. What's emerged are bright, probing songs with lyrics that yearn for authentic connection amidst darkness and doubt. The searching, meditative quality at work in their music led one producer to cheekily dub them "singer-psalmwriters."
Their self-titled debut drops this Friday, November 10th. In advance, Consequence of Sound is premiering "Still Though We Should Dance", an affirming duet with musician Sam Shelton. The track finds both singers working to cast aside their own regrets and embrace the present, the future, and the possibility that maybe all of us imperfect beings are allowed to be happy after all. The song's rollicking percussion, soaring fiddle, and rowdy chorus wouldn't sound out of place against the clinks of a crowded, candlelit pub.