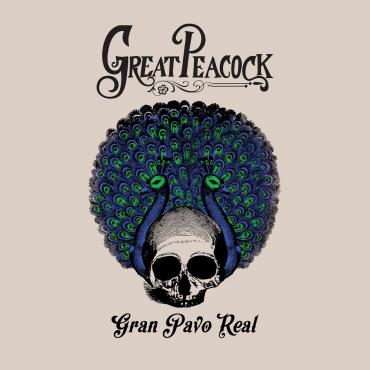 "A peacock has so many colors, and that's what we want our sound to be like. It's clearly rock 'n roll. It's clearly country. It's clearly folk. There's definitely blues and elements of R&B in there, too," says Nelson.
With their forthcoming sophomore release, Gran Pavo Real, Nashville's Great Peacock⎯⎯ Andrew Nelson (lead vocals and guitar), Blount Floyd (guitar), drummer Nick Recio (drummer) and Frank Keith IV (bass)⎯⎯ obscure the lines between rock 'n roll, folk, blues, and Americana while tackling the universal themes of heartache, loneliness, and desperation with a striking emotional precision.
Recorded at Nashville's Sound Emporium, the breadth of Gran Pavo Real is apparent on first listen. Produced by Dexter Green (Jason Isbell, Elizabeth Cooke), who aided the quartet in fusing varied sonic elements, the ten tracks lead the listener into songs both heartbreaking and brittle to those more desolate and uneasy. Enlivened by their nimble musicianship, lyrical insight, and Nelson's soulful vocals, the band's grooves run thick on "Rattlesnake," cut to the bone on "Oh Deep Water," and emit a palpable yearning on "All I Really Want Is You." Today, the band shares their first single from the project, "One Way Ticket." A solid drumbeat lays the foundation for the sweeping, hymn-like track that is supported by alluring key-work, dynamic guitar solos, and Nelson's hypnotic vocals which tell the story of a free soul who's reminiscing and finding his path.
Blount Floyd had this to say about the album,
"I'm sure most bands deal with the same trials and tribulations in what is best described as the journey of making a record, I am here to tell you our story of how Gran Pavo Real came to fruition.  It always begins and ends with the songs, which some have been kicking around for quite a while…"